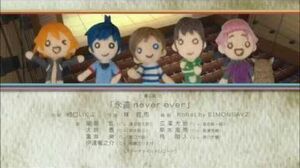 Hollywood Rule 1・2・5 (ハリウッドルール1・2・5) is the first ending theme of Shounen Hollywood: Holly Stage for 49. It's sung by the main cast.
Hitotsume no negai
Egao ga mitai na
Kimi no tanoshii kimochi
Takusan tsudzuku you ni

Futatsume no omoi
Tsutaetsudzuketai
Nidoto kaeranu toki wo
Bokura ikiteru

Itsutsume no inori dakedo
Terekusakute ienai
Yuuki kudasai

(1・2・5)
Mamorimashou 1・2・5
Holly Holly Hollywood rules

(1・2・5)
Kanaemashou 1・2・5
Hurry hurry Hollywood rules

Itsutsume saa iu yo
Kimi no suneta kao namida
Zenbu hikiukeru yo
Kimi wo shiawase ni shitai
Wish Number 1:
I want to see you smile
I hope that you get to enjoy
A whole bunch of fun times

Hope Number 2:
I hope you always know how I feel
We're unable to go home
In our current lives

Prayer Number 5:
It's too embarrassing to say
Please give me courage

(1・2・5)
Let's obey rules 1・2・5
Holly Holly Holywood rules

(1・2・5)
Let's make them come true 1・2・5
Hurry hurry Hollywood rules

I'm going to say the fifth rule;
You cry when you pout
I will take all those tears unto myself;
I want to make you happy
Community content is available under
CC-BY-SA
unless otherwise noted.