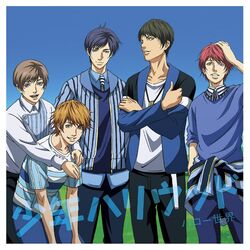 Hello Sekai (ハロー世界 Harō Sekai) is the opening theme for the first season of the Shounen Hollywood anime, as well the ending song of Episode 7 and Episode 12. It's sung by the main cast.
Hello Hello Sekai
Bokura no Sutaato

Akogare hajimete shitta kimochi toumei sugite
Yume nano ka dou ka jishin ga nakatta
Telebi no maede mitsuketa keshiki toi kiwoku
Kimi no iru basho wa kagayaite mieta

Yokei na kotoba ga bokura kasumete mo
Egao ga mugen ni taiki sa riaru na wonderland
It's show time!

Hello hello sekai nee boku ni wa mieru yo
Kimi no mune no oku kimi mo shiranai oto ga aru
Hello hello sekai shinjitsu ni tadoritsuke
Suki sagirai sae suki no senaka osu nda ikou
Saa ikou

Jounetsu sono ondo o wakarazu furete naita
Totsuzen no ame ga itami wo nagashita

Yasuragi no soko ni sekkyou saretara
Mirai no doa no mukou ga wa suteki na sapuraizu
Shining star

Sekai no hate ni wa mada minu nani ka ga aru
Konpuriito dekinai kibou to yobeba utsukushii
Ano hikari no saki deguchida to omotteta
Yume no iriguchisa koe ga suru yo mimi wo sumasete
Susumu nda

Harete yuku sora ni hakushu ga okurare
Kimi wa hohoemu yoku kita ne tte omatase!
(Thank you for your love)

Song for you!

Hello hello sekai saa bokura no sutaato
Kimi no namae yobu atatakana chiga nagare dasu
Hello hello sekai shinjitsu wo mitsuketa yo
Kimi ga egaku mono sono subete ga inochi sa hello
Sey hello
Hello hello world
This is where we start

The view I found on TV
resides in my distant memories
Wherever you are,
the place shines in my eyes

Even if harsh words happen to graze us,
We have an infinite number of smiles on standby
This is a real Wonderland; It's show time

Hello hello world Just so you know, I can see something
There is a sound in the back of your chest that even you don't know about
Hello hello sekai! Reach the truth
I love it! Push the backs of those you like, and even those you don't
Let's go! C'mon, let's go

Unfamiliar with the heat of passion, I cried when I touched it
The sudden downpour washed away the pain

If I got scolded while in a deep rest,
I am sure to find a wonderful suprise on the other side of the door to the future
Shining Star

There is still something unseen at the far reaches of the world
I can't complete it; It's beautiful if you call it "hope"
I thought the light led to an exit
It's the entrance to dreams; Listening carefully, I can hear voices
As I push forward

An applaus is sent to the sky as the clouds disperse
You say with a smile, "I'm glad you made it" Sorry to have made you wait!
(Thank you for you love)

Song for you!

Hello! Hello, world! C'mon, this is where we start
I'm calling your name; Warm blood begins to flow
Hello! Hello, world! I've found the truth
Everything you draw is filled with life
Hello! Say, "Hello!"
Community content is available under
CC-BY-SA
unless otherwise noted.